Healpsorin Scalp and Hair Set
Shampoo + Conditioner
Regular price
£43.00
Sale price
£30.00
/
Tax included.
Shipping
calculated at checkout.
443 in stock
---
Recommended for: psoriasis, dandruff, seborrheic dermatitis
This perfect duo relieves symptoms associated with psoriasis and seborrheic dermatitis, protecting the scalp from future dehydration whilst simultaneously moisturising and supporting hair fibers for shiny, flake-free hair.
Healpsorin Shampoo comforts and minimises dandruff, seborrheic dermatitis and psoriasis symptoms such as dry, flaky, red, itch scalp.
Healpsorin Conditioner reduces an itchy, dry scalp by eliminating the bacteria that clogs hair follicles. Provides moisture and lustre while strengthening hair.
Stops Scalp Itching and Flaking
Combat unwanted flakiness and discomfort associated with Malassezia Furfur (dandruff), psoriasis, and seborrheic dermatitis. Healpsorin shampoo cleanses and refreshes the hair, whilst providing instant relief to irritated scalps.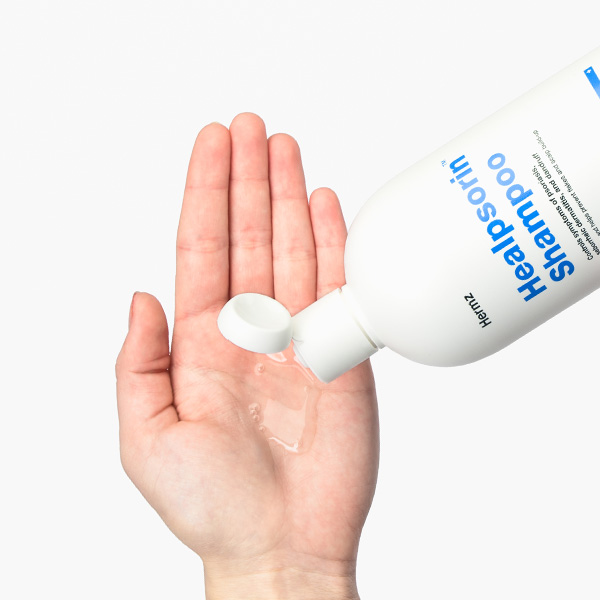 Enriched with an antimicrobial, gentle formula specially formulated to relieve itching and irritation for long-lasting comfort. The anti-build up shampoo harnesses the powers of anti-inflammatory Comfrey to support the regeneration of damaged skin cells on the scalp by promoting cell proliferation.
Condition Hair and Soothe Scalp
Our Healpsorin itchy scalp conditioner does it all. The conditioning combination relieves symptoms associated with psoriasis and seborrheic dermatitis, protecting the scalp from future dehydration whilst simultaneously moisturising and supporting hair fibres for shiny, flake-free hair.
Expertly blended with calming ingredients to help restore the hair shaft and hydrate the scalp, whilst revitalising and replenishing dull and thin hair strands. Harnessing the restorative and structuring properties of amino acids, infusing the hair with vitamins to facilitate healthy hair growth as well as improving hair texture and strength.
Soothe and Enrich
Every key ingredient in our sensitive scalp conditioner pulls double duty as a conditioning agent as well as a scalp defender. The result is a conditioner that achieves the delicate balance of strengthening and revitalising hair whilst working to treat symptoms of psoriasis and seborrheic dermatitis.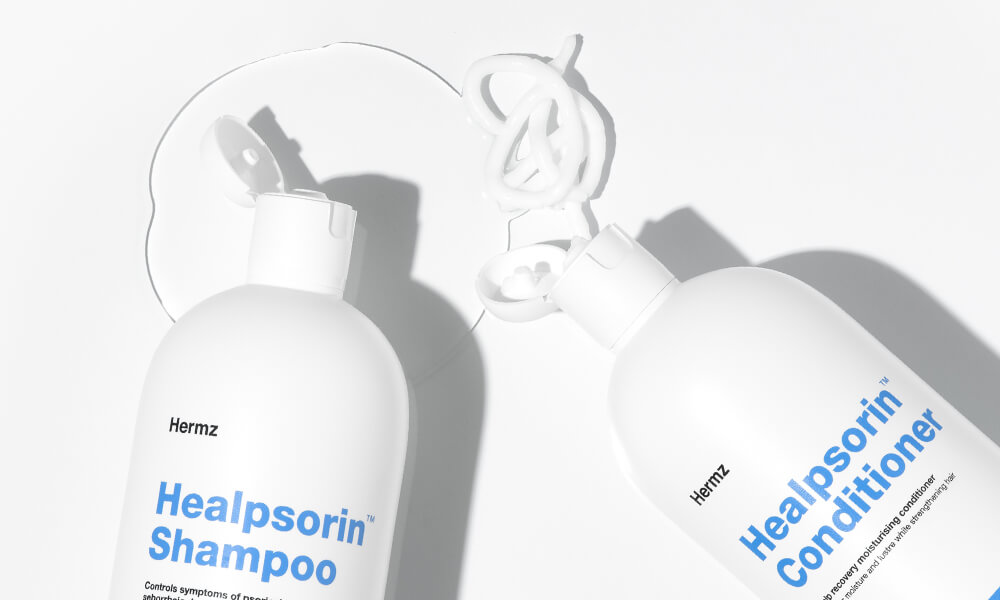 "I've used the the shampoo for a while now but first time trying the conditioner. Feels very rich like a cream when you pour it but it definitely combatted any dryness caused by the shampoo... I left it in for 15 min and hair is soft to touch and scalp is not dry or flaking. Would definitely recommend."
Robert D.
Key Ingredients
Healpsorin Shampoo
Dermosoft® Decalact Liquid - supporting the antimicrobial efficacy of Healpsorin shampoo, Dermosoft® is a natural, multifunctional active ingredient with antibacterial and antimicrobial properties with efficacy against Malassezia Furfur (dandruff), psoriasis, and seborrheic dermatitis.
Salicylic Acid - infused with beta hydroxy acids, (BHA) Salicylic Acid within our Healpsorin shampoo is a gentle exfoliant specially selected for its ability to break down layers of thick skin which helps lift, soften and eliminate scales on the scalp. Gently exfoliating dry, flaky skin, minimising inflammation and replenishing lost moisture.
Comfrey - exceptional hydration properties stimulate skin cell proliferation, but also act as an excellent exfoliant that will soften scalp flakes associated with Malassezia Furfur (dandruff), psoriasis, and seborrheic dermatitis.
Urea - enhances penetration kinetics of multivitamins to the scalp and hair, whilst thoroughly cleansing dry hair to eliminate flakiness. In synergy within our proprietary shampoo formula, Urea restores dry and flaky scalps back to health.
Healpsorin Conditioner
Camellia Oil - multi-purpose and antioxidant-rich Camelia oil has excellent hair conditioning and moisture retaining capabilities. Abundant in triolein, a component of human sebum incorporated into our Healpsorin Conditioner for softening and eliminating scales on the scalp easing uncomfortable itchy outbursts.
Arginine - found naturally in the form of protein-derived ingredient Keratin found in hair, amino acid Arginine supports the barrier function of the scalp. Aiding hair growth when combined with other amino acids within our proprietary formulated conditioner, Arginine absorbs easily and improves blood circulation, stimulating the scalp and encouraging hair growth.
Coconut Oil - rich in lauric acid Coconut oil helps reduce protein loss in all hair types, softening and protecting both hair and scalp. The vitamins and fatty acids in Coconut oil help nourish the scalp and penetrate the cuticle of the hair, restoring scalp health while reducing dandruff flaking.
Vitamin B5 - moisture-retaining Panthenol (Vitamin B5) within our Healpsorin Conditioner strengthens and improves the hair follicle function in order to keep the hair follicles healthy to stimulate hair growth and prevent symptoms of psoriasis and seborrheic dermatitis.
Ingredients
Healpsorin Shampoo: Aqua, Cocamidopropyl Betaine, Sodium Cocomphoacetate, Acrylates/Beheneth-25 Methacrylate Copolymer, Urea, Polysorbate-20, Salicylic Acid, Sodium Caproyl/Lauroyl Lactylate, Triethyl Citrate,Parfum, Citrus Aurantium Amara Flower Oil, Symphytum Officinale Leaf Extract, Helianthus Annuus (Sunflower) Seed Oil, Pogostemon Cablin Oil, Cyanocobalamin, Limonene, Linalool.
Healpsorin Conditioner: Aqua, Urea, Cetearyl Alcohol, Behentrimonium Methosulfate, Camelia (Camellia) Japonica Seed Oil, Pentaclethra (Pracaxi) Macroloba Seed Oil, Butyrospermum Parkii (Shea Butter) Fruit, Cocos Nucifera (Coconut) Oil, Panthenol (Vitamin B5), Sodium PCA, Sodium Lactate, Arginine, Aspartic Acid, PCA, Glycine, Alanine, Serine, Valine, Proline, Threonine, Isoleucine, Histidine, Phenylalanine, Sodium Caproyl/Lauroyl Lactyl, Phenoxyethanol, Ethylhexylglycerin, Parfum.
Treatment results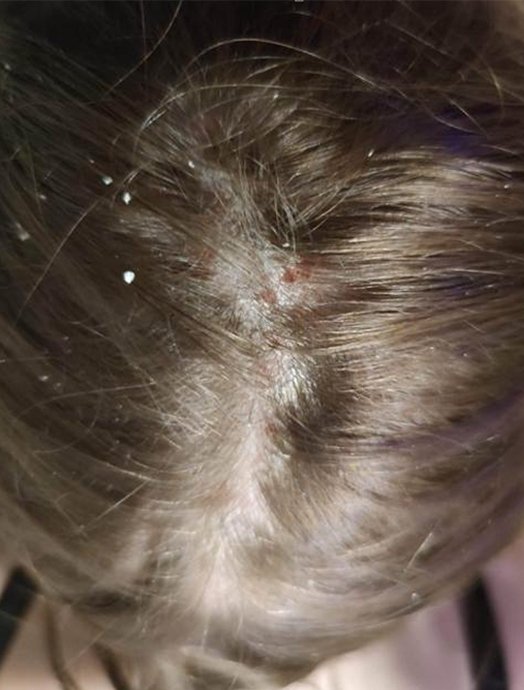 Before treatment
After 3 weeks of treatment
"After using the shampoo for just 3 weeks I am seeing a noticeable difference in my hair, delighted with the results so far."
Anna
How to use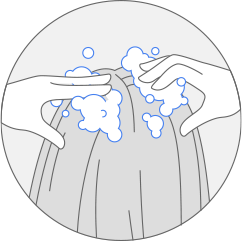 Step 1
Apply liberal amount of Healpsorin Shampoo to wet hair. Massage the product into the scalp, leave it on for a minimum of 3 to 7 minutes.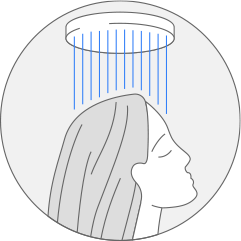 Step 2
Rinse thoroughly and repeat if necessary.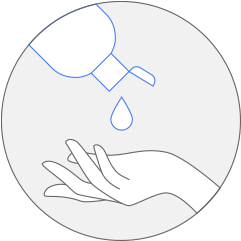 Step 3
Apply Healpsorin Conditioner to damp scalp and hair to instantly nourish and detangle hair without weighing down.
Step 4
Leave for 15 - 20 minutes. Rinse thoroughly.
When using the products, avoid contact with eyes. If contact occurs, rinse eyes thoroughly with water.
When the treated area starts to itch it's an indicator that the treatment is working. This is how our skin responds.
Stop use and ask a physician if the condition worsens or does not improve after regular use. Ask a physician before use if you have a condition that covers a large part of the body.
Once you have your lesions under control, you can cut back on your use of the Healpsorin Shampoo to just twice a week.
Good to know
You may need to use Healpsorin Shampoo repeatedly to get the lesions under control. Often, this means using the shampoo daily for several weeks.
With the Healpsorin Shampoo consistency is the key. Treatment duration and overall effectiveness are dependent on many factors like diet, allergens or even alcohol intake.
dermatologist tested, safe for color-treated and relaxed hair, cruelty-free, vegan friendly