Healpsorin Shampoo
Treatment for dry, flaky and itchy scalp
Regular price
Sale price
£21.00
/
Tax included.
-808 in stock
---
Recommended for: psoriasis, severe dandruff, seborrheic dermatitis
The shampoo effectively purifies the scalp and helps to prevent scaling flakes and scalp build-up that effortlessly rinse away after just one use.
Comforts and minimises dandruff and seborrheic dermatitis and psoriasis symptoms such as dry, flaky, red, itch scalp. 
Nourishes and hydrates the hair and scalp.
Provides instant respite to irritated scalps.s
Relieves itching and helps restore skin structure by slowing down the process of cell production.
Soothes itching and promotes healing, washing away harmful fungus and bacteria.
Prevents the recurrence of scalp itching and flaking.
Stops Scalp Itching and Flaking
Combat unwanted flakiness and discomfort associated with Malassezia Furfur (dandruff), psoriasis, and seborrheic dermatitis. Healpsorin shampoo cleanses and refreshes the hair, whilst providing instant relief to irritated scalps.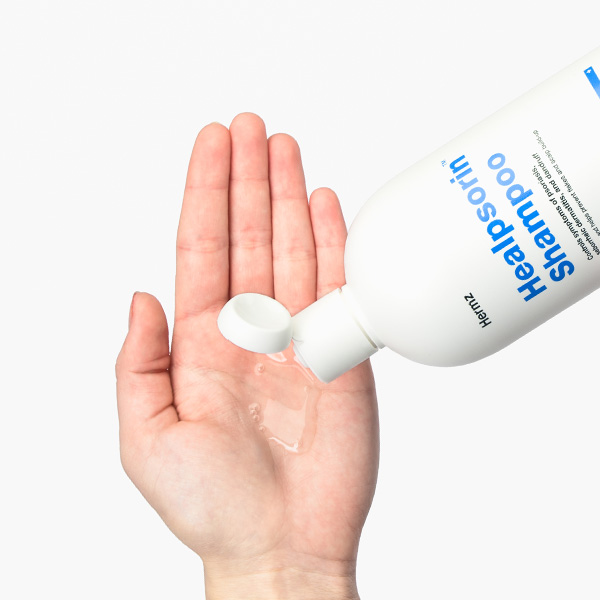 Better Results with Medicated Shampoo
Enriched with an antimicrobial, gentle formula specially formulated to relieve itching and irritation for long-lasting comfort. The anti-build up shampoo harnesses the powers of anti-inflammatory Comfrey to support the regeneration of damaged skin cells on the scalp by promoting cell proliferation.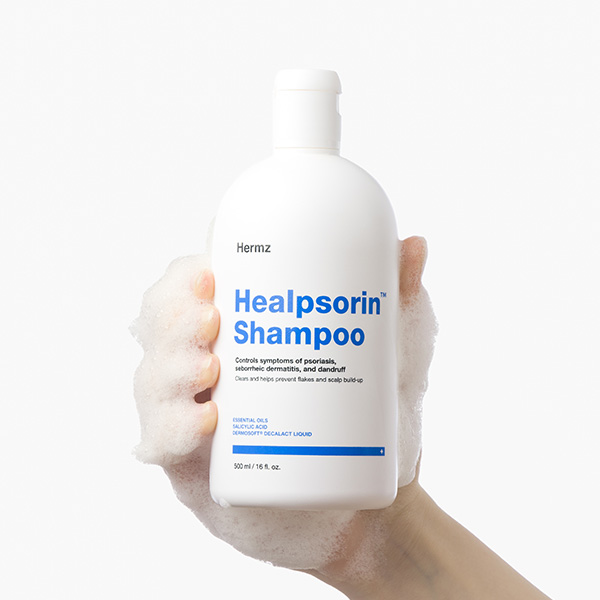 Active Ingredients
Paired with exfoliating Salicylic Acid and our multifunctional, natural and anti-microbial active, Dermosoft® blend effectively helps to reduce and soften severe dandruff by breaking down dead skin cells, whilst leaving hair feeling, soft, shiny and manageable from root to tip.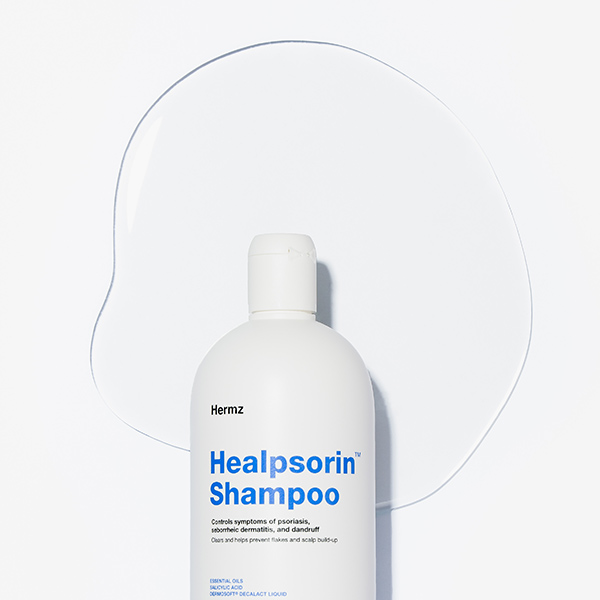 "After being plagued by an itchy head for months, I am so pleased with this product. It's calmed the itch, lessened my dandruff issue, and hopefully soon it will be a bad dream. Can't say how much better my head is."
Claire
Key Ingredients
Dermosoft® Decalact Liquid - supporting the antimicrobial efficacy of Healpsorin shampoo, Dermosoft® is a natural, multifunctional active ingredient with antibacterial and antimicrobial properties with efficacy against Malassezia Furfur (dandruff), psoriasis, and seborrheic dermatitis.
Salicylic Acid - infused with beta hydroxy acids, (BHA) Salicylic Acid within our Healpsorin shampoo is a gentle exfoliant specially selected for its ability to break down layers of thick skin which helps lift, soften and eliminate scales on the scalp. Gently exfoliating dry, flaky skin, minimising inflammation and replenishing lost moisture.
Comfrey - exceptional hydration properties stimulate skin cell proliferation, but also act as an excellent exfoliant that will soften scalp flakes associated with Malassezia Furfur (dandruff), psoriasis, and seborrheic dermatitis.
Urea - enhances penetration kinetics of multivitamins to the scalp and hair, whilst thoroughly cleansing dry hair to eliminate flakiness. In synergy within our proprietary shampoo formula, Urea restores dry and flaky scalps back to health.
Ingredients
Aqua, Cocamidopropyl Betaine, Sodium Cocomphoacetate, Acrylates/Beheneth-25 Methacrylate Copolymer, Urea, Polysorbate-20, Salicylic Acid, Sodium Caproyl/Lauroyl Lactylate, Triethyl Citrate,Parfum, Citrus Aurantium Amara Flower Oil, Symphytum Officinale Leaf Extract, Helianthus Annuus (Sunflower) Seed Oil, Pogostemon Cablin Oil, Cyanocobalamin, Limonene, Linalool.
Treatment results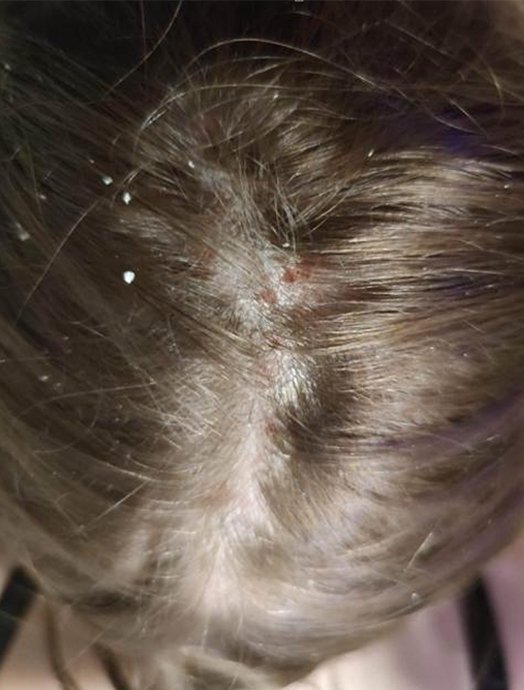 Before treatment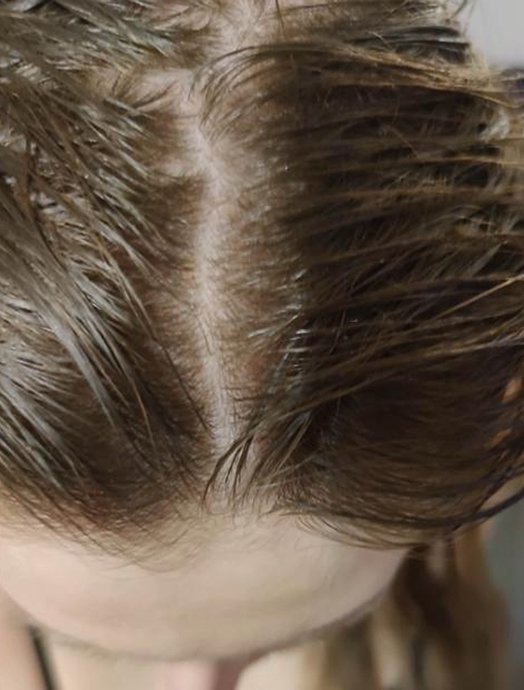 After 3 weeks of treatment
"After using the shampoo for just 3 weeks I am seeing a noticeable difference in my hair, delighted with the results so far."
Anna
How to use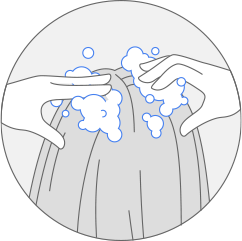 Step 1
Apply liberal amount of Healpsorin Shampoo to wet hair and massage into scalp gently work through to ends.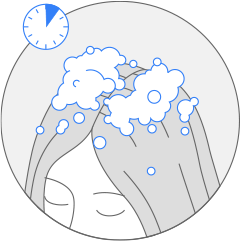 Step 2
Massage the product into the scalp, leave it on for a minimum of 3 to 7 minutes.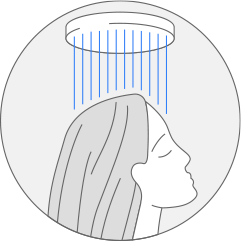 Step 3
Rinse thoroughly and repeat if necessary.
When using this product, avoid contact with eyes. If contact occurs, rinse eyes thoroughly with water.
When the treated area starts to itch it's an indicator that the treatment is working. This is how our skin responds.
Stop use and ask a physician if the condition worsens or does not improve after regular use. Ask a physician before use if you have a condition that covers a large part of the body.
Once you have your lesions under control, you can cut back on your use of the product to just twice a week.
Good to know
You may need to use Healpsorin Shampoo repeatedly to get the lesions under control. Often, this means using the shampoo daily for several weeks.
With the Healpsorin Shampoo consistency is the key. Treatment duration and overall effectiveness are dependent on many factors like diet, allergens or even alcohol intake.
dermatologist tested, safe for color-treated and relaxed hair, vegan friendly, cruelty-free