Healpsorin Conditioner
Softens scales and crusting of the scalp
Regular price
£21.00
/
Tax included.
-386 in stock
---
Recommended for: psoriasis, severe dandruff, seborrheic dermatitis
Healpsorin conditioner delivers effective relief from scalp dryness and irritation while helping to clear dandruff scales for optimum scalp health.
Eliminates dead skin cells from the scalp leaving it hydrated and deeply nourished.
Forms a barrier against environmental pollutants and accelerates recovery of the scalps barrier.
Leaves hair resistant to breakage.
Protects hair against damage caused by the heat of blow dryers and exposure to ultraviolet rays (UVB).
Provides moisture and lustre while strengthening hair.
Reduces an itchy, dry scalp by eliminating the bacteria that clogs hair follicles.
Revitalise
Expertly blended with calming ingredients to help restore the hair shaft and hydrate the scalp, whilst revitalising and replenishing dull and thin hair strands. Harnessing the restorative and structuring properties of amino acids, infusing the hair with vitamins to facilitate healthy hair growth as well as improving hair texture and strength.
Condition Hair and Soothe Scalp
Our Healpsorin itchy scalp conditioner does it all. The conditioning combination relieves symptoms associated with psoriasis and seborrheic dermatitis, protecting the scalp from future dehydration whilst simultaneously moisturising and supporting hair fibres for shiny, flake-free hair.
"I've used the shampoo for a while now but first time trying the conditioner. Feels very rich like a cream when you pour it but it definitely combatted any dryness caused by the shampoo... I left it in for 15 min and hair is soft to touch and scalp is not dry or flaking. Would definitely recommend."
Robert D.
Key Ingredients
Camellia Oil - multi-purpose and antioxidant-rich Camelia oil has excellent hair conditioning and moisture retaining capabilities. Abundant in triolein, a component of human sebum incorporated into our Healpsorin Conditioner for softening and eliminating scales on the scalp easing uncomfortable itchy outbursts.
Arginine - found naturally in the form of protein-derived ingredient Keratin found in hair, amino acid Arginine supports the barrier function of the scalp. Aiding hair growth when combined with other amino acids within our proprietary formulated conditioner, Arginine absorbs easily and improves blood circulation, stimulating the scalp and encouraging hair growth.
Coconut Oil - rich in lauric acid Coconut oil helps reduce protein loss in all hair types, softening and protecting both hair and scalp. The vitamins and fatty acids in Coconut oil help nourish the scalp and penetrate the cuticle of the hair, restoring scalp health while reducing dandruff flaking.
Vitamin B5 - moisture-retaining Panthenol (Vitamin B5) within our Healpsorin Conditioner strengthens and improves the hair follicle function in order to keep the hair follicles healthy to stimulate hair growth and prevent symptoms of psoriasis and seborrheic dermatitis.
Ingredients
Aqua, Panthenol, Behentrimonium Chloride, Cetearyl Alcohol, Camellia Kissi Seed Oil, Pentaclethra Macroloba Seed Oil, Butyrospermum Parkii (Shea) Butter, Cocos Nucifera (Coconut) Oil, Lactobacillus/Nereocystis Luetkeana Ferment Filtrate, Lactobacillus Ferment, Olea Europaea (Olive) Fruit Oil, Ricinus Communis (Castor) Seed Oil, Propylene Glycol, Sodium PCA, Sodium Lactate, Arginine, Aspartic Acid, PCA, Glycine, Alanine, Serine, Valine, Proline, Threonine, Isoleucine, Histidine, Phenylalanine, Sodium Caproyl/Lauroyl Lactylate, Triethyl Citrate, Phenoxyethanol, Ethylhexylglycerin, Parfum.
How to use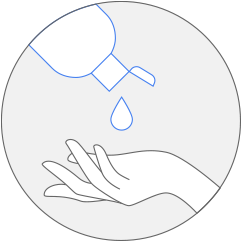 Step 1
Apply Healpsorin Conditioner to damp scalp and hair to instantly nourish and detangle hair without weighing down.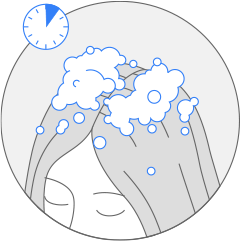 Step 2
Leave for 15 - 20 minutes.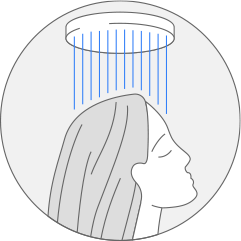 When using this product, avoid contact with eyes. If contact occurs, rinse eyes thoroughly with water.
dermatologist tested, safe for color-treated and relaxed hair, vegan friendly, cruelty-free