H+P Shampoo
Hydrates dry scalp and soothes itchy scalp
Regular price
€17,00
/
Tax included.
Shipping
calculated at checkout.
100 in stock
---
Recommended for: itchy scalp, psoriasis, seborrheic dermatitis
Our antimicrobial and stimulating, Hemp, Salicylic Acid and Probiotic blend cleanses and exfoliates dry scalps, while calming inflammation and maintaining moisture balance.
Accelerates recovery of the scalps barrier.
Rich in essential fatty acids and omega 3,6,9 essential for the growth of healthy hair.
Relieves itching and helps restore skin structure by slowing down the process of cell production.
Treats and prevents dandruff, seborrheic dermatitis and psoriasis symptoms such as dry, flaky, red, itch scalp.
Soothes itching and promotes healing, washing away harmful fungus and bacteria.
Soothe Your Scalp
A gentle yet thoroughly cleansing antimicrobial shampoo formulated with a balanced blend of Hemp, Probiotics and Salicylic Acid.
Specifically chosen for their effectiveness in treating underlying symptoms associated with Seborrheic Dermatitis and Psoriasis, H+P shampoo deeply hydrates scalp and hair.
Fight Free Radicals
High in antioxidants, hemp oil combats the effects of free radicals and helps to manage inflammation while replenishing lost moisture and easing uncomfortable itchy outbursts.
Eliminate Bacteria
Microbiome friendly probiotic lactobacillus ferment restores balance and soothes scalp issues, such as flaking, itching and excess oiliness.
Grow Healthy Hair
Free from coal tar and steroids, our soothing and naturally anti-inflammatory formula supports and protects the acid mantle of the scalp, helping to reduce irritation and excessive sebum production, softening and relieving it from dandruff, flaking and stubborn itchy flare-ups.
"I never usually write reviews for any products but I had to write one for this. I suffer quite badly with scalp psoriasis & have done for years, however using steroid creams on my scalp always left my hair greasy & in horrible condition so I decided to try this shampoo to get it under control instead. I've been using it for around 7 weeks and my scalp psoriasis is almost gone! I didn't have much hope for this product working overly well but I'm pleasantly surprised & have already ordered myself another bottle for when this one runs out. I'd highly recommend this for anyone who suffers from scalp psoriasis as the ingredients are not irritating whatsoever & it really helps with the itching & flakes! An absolute miracle shampoo!"
Demi
Key Ingredients
Cannabinoid (CBD) - anti-inflammatory properties of CBD, helps prevent and reduce scalp irritation. Phytocompounds from the hemp plant contain essential fatty acids, which nourish and hydrate the hair and scalp. Preventing water loss, CBD improves dandruff, seborrhoeic dermatitis, psoriasis and itchy, flaky scalp.
Salicylic Acid - infused with beta hydroxy acid (BHA) Salicylic Acid is a gentle exfoliant specially selected for its ability to break down layers of thick skin which helps lift, soften and eliminate scales on the scalp.
Hemp Seed Oil - high in antioxidants, Hemp oil combats the effects of free radicals and helps to manage inflammation. Facilitating hydration to dry and irritated scalps, Hemp seed oil replenishes lost moisture, easing uncomfortable itchy outbursts 
leaving both the hair and scalp moisturised.
Lactobacillus Ferment - microbiome friendly probiotic Lactobacillus Ferment restores balance and soothes scalp issues, such as flaking, itching and excess oiliness. Targeting specific yeasts responsible for flaking and itching, Lactobacillus Ferment leaves the scalp thoroughly cleansed, feeling healthier for longer.
Ingredients
Aqua, Cocamidopropyl Betaine, Sodium Cocoamphoacetate, Urea, Acrylates/Beheneth-25 Methacrylate Copolymer, Cannabis Sativa (Hemp) Seed Oil, Polysorbate-20, Parfum, Sodium Caproyl/Lauroyl Lactylate, Triethyl Citrate, Helianthus Annuus (Sunflower) Seed Oil, Symphytum Officinale (Comfrey) Leaf Extract, Salicylic Acid, Cannabidiol (CBD), Alpha Glucan-Oligosaccharide, Polymnia Sonchifolia Root Juice, Maltodextrin, Lactobacillus, Cholecalciferol, Phenoxyethanol, Ethylhexylglycerin.
How to use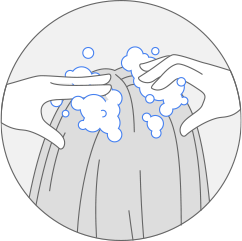 Step 1
Apply liberal amount of H+P Shampoo to wet hair and massage into scalp gently work through to ends.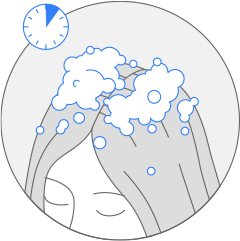 Step 2
Massage the product into the scalp, leave it on for a minimum of 3 to 7 minutes.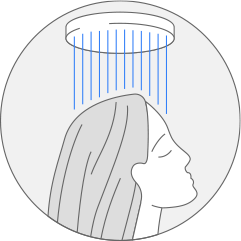 Step 3
Rinse thoroughly and repeat is necessary.
You may need to use H+P Shampoo repeatedly to get the lesions under control. Often, this means using the shampoo daily for several weeks.
With the H+P Shampoo consistency is the key. Treatment duration and overall effectiveness are dependent on many factors like diet, allergens or even alcohol intake.
Once you have your lesions under control, you can cut back on your use of the product to just twice a week.
Good to know
When using this product, avoid contact with eyes. If contact occurs, rinse eyes thoroughly with water.
When the treated area starts to itch it's an indicator that the treatment is working. This is how our skin responds.
Stop use and ask a physician if the condition worsens or does not improve after regular use. Ask a physician before use if you have a condition that covers a large part of the body.
dermatologist tested, safe for color-treated and relaxed hair, cruelty-free